I took some time off "that novel i've been workin' on" and decided to prepare another mix, with -let's say- some kind of a "theme" this time.

It's a mix of songs by greek bands and artists that are currently active, for promotional reasons mainly.

I gathered almost everything i could get my hands on and put together a compilation of tunes that i fancy, up to this day.
The only connection between them is that they have been released, roughly, from mid '00s till now.
No particular music genres or styles.
There is stuff by other acts that's left out coz it couldn't fit in this compilation lengthwise or coz i yet don't have access to them.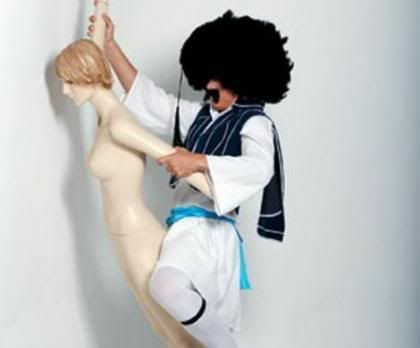 Tracklisting:

01.
63 High
- Bad Words (from band's cd given out in shows)
02.
BNC
- Livin' a Lie (from "The Birth", Cast-a-Blast, 2008)
03.
Semen of the Sun
- Corner Bar Freaks (from "Radio Adult, Slow Songs, Cheese and Wine", The Lab, 2008)
04.
Palov & Mishkin
- Theme from "BackSlam" (from "Backslam Extravaganza", Cast-a-Blast, 2007)
05.
Vodka Juniors
- All We Need Is Some Gasoline (from "Dark Poetry", Cannonball, 2007)
06.
The Earthbound
- Broke FM (from "Brotherhood of The Dog", Sirius, 2004)
07.
Down & Out
- Fine Lookin' Woman Blues (from "First Single", Fuzz Overdose, 2008)
08.
Lord 13
- Mescalito (from "Lord 13", Metal Breed / Burning Star, 2006)
09.
Planet of Zeus
- Something's Wrong (from "11 The Hard Way", Casket, 2008)
10.
Cube
- Oblique (from the compilation "In The Junkyard vol.3", Spinalonga, 2007)
11.
The Teddy Boys From The Crypt
- Pay The Price (from "Pay The Price", Fuzz Overdose, 2008)
12.
Menta
- Instrumenta (from "Instrumenta", Hxotron, 2007)
13.
Sugah Galore
- Demons (from "Spacecakes", Feedback Sound, 2009)
14.
The Ottawa Bros
- Spoonblender (from "Duck Soup", Cast-a-Blast, 2008)
15.
Quasamodo
- Funk Off (from "Funk Off / Cheeky Bastard", Timewarp Music, 2008)
16.
Blend
feat. Jeff "Rocklip" Gonzalez - Smoke (from "Misplaced", Cast-a-Blast, 2006)
17.
Sugahspank!
- The Incredible (from "The Incredile/The Invisible", Cast-a-Blast, 2008)
Other than that, u can click on the names of the artists and bands on the tracklisting to see their MySpace pages or go to scgoneam's linx field.